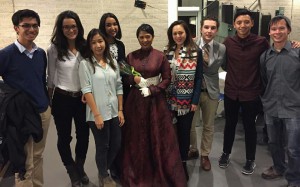 On friday 20 November the INYS crew together with the winner of the two free tickets provided by INYS attended the Indonesia Jazz Night in The Hague. We believe it was an amazing evening and thank the Embassy of the Republik of Indonesia for organizing the event.
INDONESIA JAZZ NIGHT
Dwiki Dharmawan & Friends
feat: Tohpati & Dira Sugandi
20 November 2015
18.30 – 21.00
venue:
Koninklijk Conservatorium
Juliana van Stolberglaan 1, 2595 CA Den Haag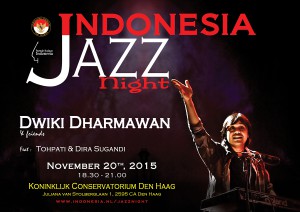 Dwiki Dharmawan is Indonesia's most gifted and celebrated music personalities, multi-genre keyboardist, composer, producer, peace activist and cultural icon.
With a career spanning over 30 years and performances in over 70 countries, Dwiki remains one of his country's most popular and respected industry stalwarts.
On his debut for MoonJune Records, listeners are treated to an exotic musical mélange of the highest order. Featuring fusion and progressive rock luminaries, Chad Wackerman, Jimmy Haslip, (and fellow MoonJune artists and Indonesian giants) Dewa Budjana and Tohpati, and as well the legendary violinist, Jerry Goodman. "So Far, So Close" features adventurous compositions, arrangements and performances.
Lovers of fusion's "golden era" (mid-'70's through the mid-'80's) will find plenty to keep them enthralled throughout this sizzling session, as Dwiki and company never let off the gas while scaling high-altitude sonic terrain in effortless fashion.
More info about Dwiki Dharmawan click here!