[nd_options_text nd_options_text_tag="h3″ nd_options_text_weight="bold" nd_options_text_family="nd_options_first_font" nd_options_text=""The Future is Now: Own It!" – Workshop on the relations between Indonesia and the Netherlands" nd_options_text_color="#727475″ nd_options_text_font_size="20″ nd_options_text_line_height="20″][nd_options_spacer]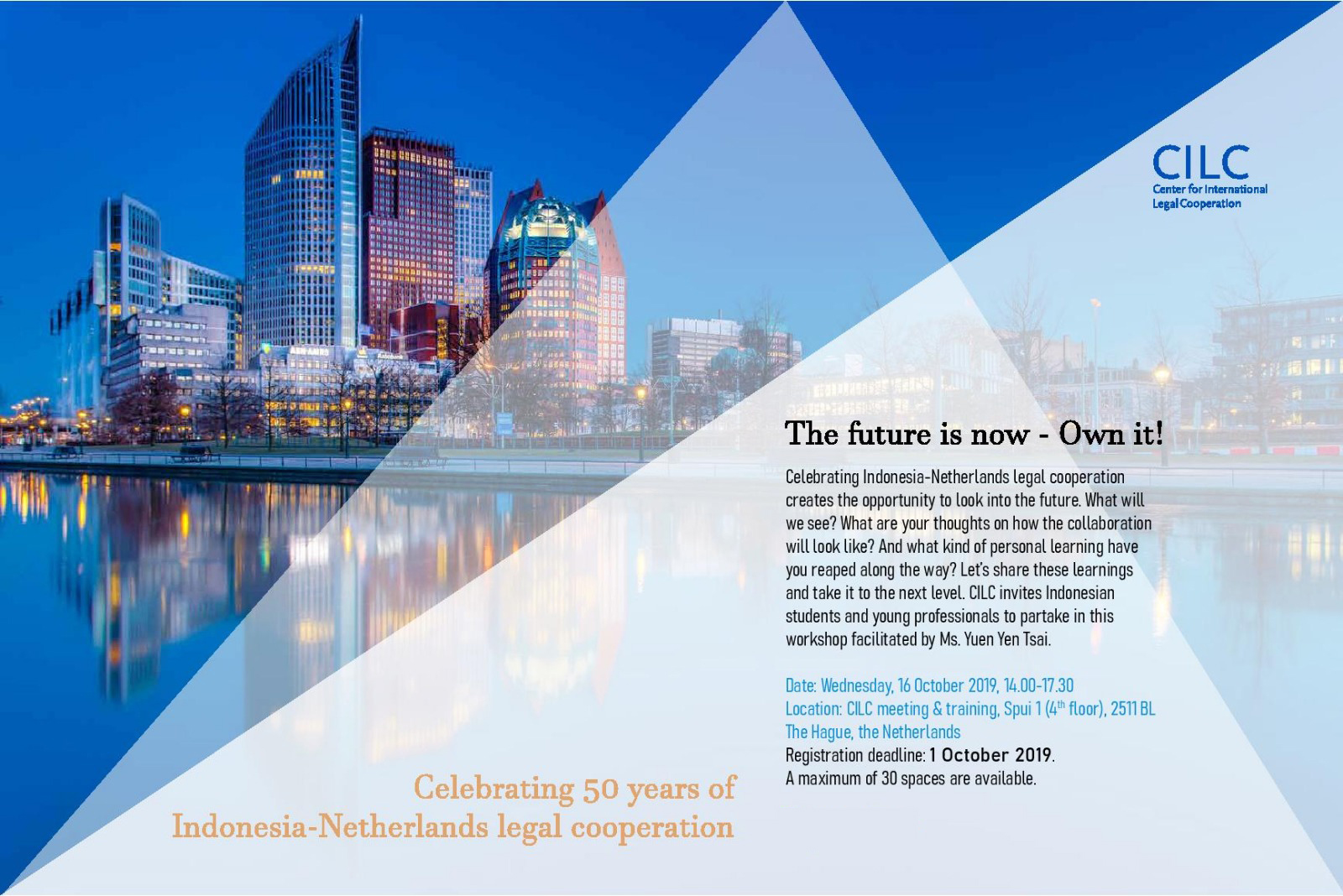 [nd_options_spacer nd_options_height="20″]
Celebrating Indonesia-Netherlands legal cooperation creates the opportunity to look into the future. What will we see? What are your thoughts on how the collaboration will look like? And what kind of personal learning have you reaped along the way? Let's share these learnings and take it to the next level. Center for International Legal Cooperation (CILC) invites Indonesian students and young professionals to partake in this workshop facilitated by Ms. Yuen Yen Tsai.
Date: Wednesday, 16 October 2019, 14.00-17.30
Location: CILC meeting & training, Spui 1 (4th floor), 2511 BL
The Hague, the Netherlands
A maximum of 30 spaces are available.
Interested? Please register yourself here (https://www.surveymonkey.com/r/futureisnowownit) before 1 October 2019
[nd_options_image nd_options_align="center" nd_options_image="4811″ nd_options_width="100%"]
[nd_options_image nd_options_align="center" nd_options_image="4810″ nd_options_width="100%"]
[nd_options_text nd_options_text_tag="h3″ nd_options_text_weight="bold" nd_options_text_family="nd_options_first_font" nd_options_text="Blogpost Submissions" nd_options_text_color="#727475″ nd_options_text_font_size="20″ nd_options_text_line_height="20″][nd_options_spacer nd_options_height="20″]
Leading up to the workshop, CILC is looking for individuals who'd like write a blog about the relations between Indonesia and the Netherlands that will be published on CILC's website. The topic can vary, as long as it's relevant to the workshop topic. It's a great opportunity to get your ideas across, have your writing published online, and to have your thoughts discussed and reach a wider audience.
Blogpost requirements:
The blog can address the workshop directly or indirectly the workshop (i.e. the workshop itself or its themes)
500 words max
No jargon
Personal narrative, embedded with experiences linked to the topic of the workshop
1 or 2 pictures (not of the writer but related to the topic of the blog)
If possible hyperlinks to other sources such as news items or blogs (in English) in order to show the relevance of the topic
Please send us your submission before October 14 2019, 23:59 CEST
Questions? Send us an e-mail to siti.putri@inys.org