19-06-2014 – Yogyakarta – INYS @ Indonesia Channel 2014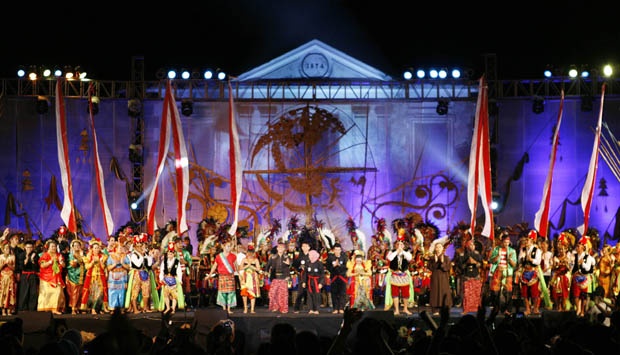 Each year the Indonesian Ministry of Foreign Affairs (Kemlu) invites artists and scholars from all over the world to participate in the Indonesian Arts & Culture Scholarsip (IACS). The IACS (a non-degree scholarship) was first launched in 2003 and was initially offered to and participated by member countries of the South West Pacific Dialogue (SwPD): Australia, New Zealand, Papua New Guinea, the Philippines, Timor-Leste, and the host Indonesia. Over the years, the scholarship was expanded to include member countries of ASEAN, ASEAN+3, PIF Countries, as well as many countries from all regions in the world, including the Netherlands.
For the past four years the Dutch awardees in the IACS program were strongly affiliated with the INYS and also this year, the two Dutch participants have a close relation with the INYS. To celebrate the strong collaboration between the INYS and the IACS program, Kemlu has invited the President of the INYS to become the MC at this year's closing of IACS at Indonesia Channel in Yogyakarta. During this closing event, 65 artists from all over the world will perform one last time together in a two hour show at UPN "Veteran" on 19 June 2014.
INYS Associates and IACS Alumni
IACS 2011: Joy Kartanegara (INYS  Marketing and Communication Specialist)
IACS 2012: Rennie Roos (INYS Founder & President)
IACS 2013: Dewie Venselaar (INYS Plan Coordinator)
IACS 2014: Sharah Arifin (INYS Junior Advisor)