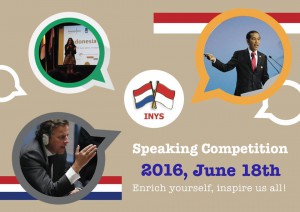 Are you ready to win a once in a lifetime trip to Indonesia? Do you want to practice your Bahasa Indonesia and develop Public Speaking skills? Do not look furthur and join the 2nd INYS Speaking Competition!
With pride the Indonesia Nederland Youth Society (INYS) – Nederland announces its next event: 'The INYS Speaking Competition – Bahasa Indonesia 2016'. This event will be hosted by the INYS in collaboration with the Indonesian Embassy in the Hague.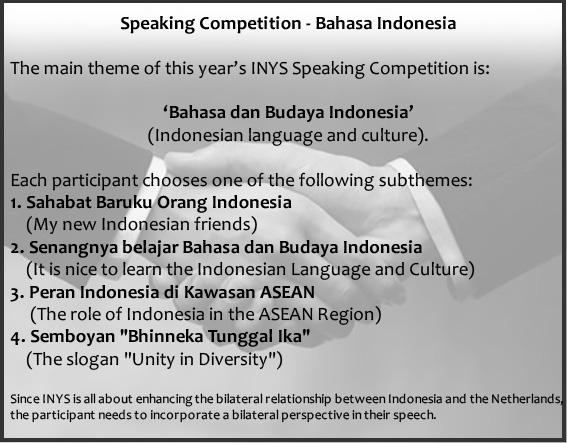 When? Saturday, 18 June 2016
Where? Indonesian Embassy in the Hague, The Netherlands
Costs? No participation fee. We will provide participants with travel subsidies, drinks and meals.
Why should you apply?
Gain and develop your public speaking skills through a public speaking workshop
Practice your Bahasa Indonesia and receive guidance in fine tuning your speech
Meet other Indonesia-minded students and professionals and expand your network
Be part of the Indonesia Nederland Youth Society and meet the leaders of today as the leader of tomorrow
Last but not least,

we will choose two winners (best speech and most creative)!

As a winner you will be part of an International Youth Delegation (under supervision of the Indonesian Ministry of Education and Culture) and who will attend the Independence Day Ceremony at the Presidential Palace in Jakarta on August 17, 2016!
Requirements Speaking Competition
Participants: Dutch students and young professionals
Duration speech: 7 minutes
Theme: One of the subthemes, incorporated with a bilateral perspective
Language: Bahasa Indonesia
Be creative and have fun!
Our aim is to bridge Indonesia and the Netherlands by creating a learning environment where all participants can gain in experience and connect with other motivated students and young professionals. Also we are happy and honoured to collaborate again with the Indonesian Embassy. That is why we believe the INYS Speaking Competition will be a fun and valuable experience for all upcoming participants!
Fill out this form to register:
http://goo.gl/forms/wC69VeuJBK
Hone your speaking skills, harness your courage and inspire us all!
If you have any questions, send us an email to the following email address: events@inys.org or check our Terms of Reference.