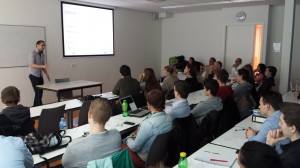 Leaving well prepared to Indonesia is of great importance to get the best out of your international adventure. Travel guides and online discussion and review platforms will help you in gaining the basic information necessary for a pleasant stay. But what if you are a student or young professional who wants to come in contact and work together with the Indonesian people? What are the local behavior values and etiquettes, and in what way intercultural problems can be avoided when cooperate with Indonesians?
To answer these questions more in detail the INYS provides pre-departure briefings for students, young professionals and entrepreneurs that soon will travel to Indonesia for study, research projects, business or whatsoever. The INYS team consists of young Indonesia-experts both with a cultural and business background. They know the Indonesian culture and are eager to share their knowledge with you on location.
Is your organization (university, company, institute, ngo etc.) sending youth to Indonesia? Do you want to give them the best preparation?
Then contact us via info@inys.org to discuss the possibilities for a pre-departure briefing at your organization.