18-03-2014 – Eindhoven – Indonesia ICT Day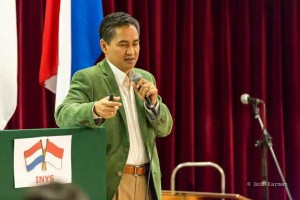 Dozens of Indonesian ICT companies presented their product and services at Indonesia Day at High Tech Campus Eindhoven. We were welcomed with Indonesian music, dance and exquisite Indonesian culinary.
The succesful seminar was organized by Abyor, together with these partners: Indonesian Government, High Tech Campus Eindhoven and Brainport Region Eindhoven.

Program:
09:00 – 09:30 Registration
09:30 – 09:40 Traditional Balinese dance
09:40 – 09:45 Opening remarks and seminar outline by Mr. Latif Gau, Managing Director Abyor Europe BV
09:45 – 09:55 Welcoming remarks by Mrs. Monique List, Vice Mayor of Eindhoven
09:55 – 10:15 Keynote speech by H.E. Mrs. Retno L.P. Marsudi, Indonesian Ambassador for the Kingdom of the Netherlands
10:15 – 10:30 Coffee break
10:30 – 12:30 Company presentations:
– High Tech Campus Eindhoven by Mr. Cees Admiraal, Business Development Director.
– INDOGLOBIT (Indonesia Global IT) association.
– Software solutions
– ERP (SAP) Solutions
– Game & Animation
12:30 – 14:00 Lunch, with Indonesian music and dance
14:00 – 16:30 Focus group meeting (parallel session)
Focus group 1. ERP (SAP):AMS, MDG, PEMS (Abyor)
Focus group 2. Software solutions:
Logistics (OSLOG)
Sales mgnt & e-channel dashboard (Masvent)
Academic Solution (Gamatechno)
Focus group 3. Software solutions:
E-Health solution
Mobility (Sangkuriang)
Web development (Bataviasoft)
Focus group 4. Game:
Game & Animation Studios:
Dutch Game Garden, Endekan
16:30 – 16:45  Formal Wrap-up by Mr. Latif Gau, Abyor Europe BV
16:45 – 18:00  Drinks & Bites: Networking