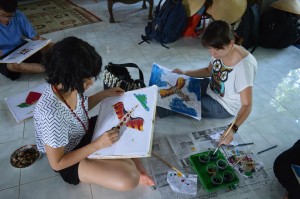 The Indonesian Studies for lndonesian Diaspora program is a special part of the Indonesian Arts and Culture Scholarship program (IACS) and is held in Yogyakarta. People with (some) Indonesian roots, as well as students who are interested in Indonesian history, economy, culture and politics can apply for this scholarship. This year there are 10 participants in the diaspora program: Great Britain, Australia, Italy, Russia, Germany, Tunisia, South Africa, Suriname, United States, and the Netherlands.
We are all studying together at Universitas Pembangunan Nasional "Veteran" Yogyakarta and we are learning the basic principles of 'modern' Indonesia. In addition, each day we also have an hour Bahasa Indonesia class and twice a week dance classes, because we also have to act in the Indonesian Channel in Surabaya on the 15th of September. Though, study in Yogya we are not learning a traditional Javanese dance, but a Dayaknese / Dayak dance  from Kalimantan.
Besides classes, every week we visit various NGOs, firms, political organizations, museums and other institutions to learn more about Indonesia. To learn more about the cultural aspects of Indonesia, we also particpate in workshops and batik-, gamelan- and cooking classes. There is huge variation in our program which makes it fun but also educational at the same time! Though the curriculum of the university is limited, we learn a lot about the Indonesian culture. Luckily we have more than enough free time to explore and research Yogyakarta ourselves and enjoy what the city has to offer us! Yogyakarta is very diverse and has both traditional and contemporary art and culture. After two months of living in Yogya, I still haven't seen everything yet!
Déwie Venselaar – Yogyakarta