Java Jazz artist Aditya Elman to perform at INYS Launch!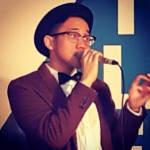 We are proud to announce that Java Jazz artist and Holland Alumni Aditya Elman will perform at our official launch in Jakarta.
Aditya is an upcoming artist, who you will know from The Voice of Holland, Java Jazz and many other musical events!
We are looking forward to hearing him sing at our official launch. Do you want to witness Adit's performance together with us? Register now through: www.INYS.org/Jakarta