Neso Director Mervin Bakker to speak at INYS Launch!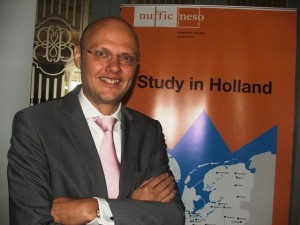 We are pleased to announce that Neso Indonesia Director, Mervin Bakker will be joining us as a speaker at the official launch of the INYS in Indonesia on 4 April 2015.
Mervin Bakker wil speak about study in Holland opportunities and the Holland Alumni Network during the Education Session of our Official Launch.
Mervin Bakker is currently Director of Nuffic Neso Indonesia and has been employed in various international roles since 1998. He has worked for the University of Amsterdam as Manager International Programmes and Head of Marketing & Communications. Next to that he has experience working for an education agent in Thailand and running a student related business in the Netherlands. Mervin holds an MSC in International Economics & Economic Geography from Utrecht University and an MBA in Higher Education Management from the Institutite of Education of the University of London. (Source: AIEC)
Always wanted to study in Holland? Learn more about the possibilities from the Neso Indonesia Director himself at our Official Launch in Jakarta. Register now through www.INYS.org/Jakarta