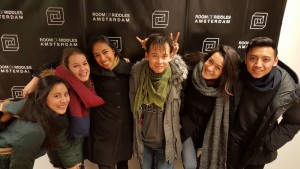 On the first of January Andhika Rutten, Reza Pamudji, Melissa Santosa, Babette Bodlaender, Sarah-Ellen Saija, Lavin Abedy started as the third executive board of Indonesia Nederland Youth Society in the Netherlands. Although we all have different cultural and academic backgrounds, each one of us has his/her own reason for joining this journey.  After an intensive transfer period (with many thanks to the former board members) we got together for an inspiration- and teambuilding session to identify and understand what drives us to do what we do, how our own values connect with the mission of INYS and from that perspective how we would like to contribute to the need of the collective and INYS as an organization.  This process of alignment definitely contributed to the spirit of the team! We harvested a lot of valuable insights and were able to make a clear vision of what we would like to achieve this year. After all these intense and serious conversations we ended the day with a fun teambuilding session in the Escape Room and had a nice Tibetan diner. Now, you probably ask yourself what did we harvest from that day and what could be interesting for you?
At first, we would like to underline that we all fully support the mission of INYS to create opportunities for the next generation. We believe that the INYS has the right resources to facilitate the exchanges between the young from both Indonesia and the Netherlands on educational, social and business matters. This bilateral relation matters not only because of the exchange in relevant knowledge that can prove to be valuable to your network and career opportunities but also because collaboration means dialogue and reflection on a very deep and personal level. We believe that the outcome is the creation of a global mindset and a deep and longstanding connection between individuals in both countries. Secondly, this is the place where innovative ideas and opportunities arise on all different levels (personal, organizational and country) and disciplines. [Here we can break with the old paradigm and build a new one.]
We identified several needs that we as a collective need to overcome and fulfil if we want to strengthen the bilateral ties through cross-cultural and intercultural collaboration between Indonesia and the Netherlands.  To name a few:
'Personal leadership' (how do I/how do we get there?)
Connection (who to exchange ideas with?)
Harmony (how to create mutual understanding?)
Trust (how to create trust?)
Language (how do I say?)
Respect (how can I receive the person as he or she is?)
Empowerment through synergy (how to motivate from a complementary perspective?)
Collaboration (how to work together?)
Support (What do I need?)
Safety (Do I feel safe to share?)
Autonomy (how can I be clear and independent in making the 'right' choices?)
Freedom (how can I make space to let it all happen?)
Equality (how can I listen, act without any judgements?)
Transparency through dialogue,
Purpose (where are we heading to?)
Learning, expression, recognition, understanding, create meaning and growth and so on. We believe that a good sense of humour, mutual trust and transparency through dialogue and actions is vital in this process. To be open-minded is to have a learning mindset.
This is where the INYS can play a role. Rennie Roos founded this platform with the aim to assist and support young Dutch and Indonesian students in their professional development and their future. Also, he was looking to simplify the way to maintain our bilateral relations. In order to support this, INYS already organized several successful activities, events and programs. With sustainability as one of our objectives we see it as our duty to continue organizing these events while working on the professionalization of the organization. To give you an insight into the events/programs that are provided by INYS, hereby an overview:
It's an event where both Indonesian and Dutch students get the opportunity to give a speech about topics that are related to the bilateral relationship between Indonesia and the Netherlands.
Meet the leader of Today as the leader of Tomorrow;
It's a business event where we connect students and young professionals with current leaders in companies/organizations to facilitate dialogue on bilateral matters and give companies the opportunity to meet and recruit talents.
We prepare Dutch students and young professionals for their trip to Indonesia from a practical and cultural perspective.
We connect Indonesian students in the Netherlands with Dutch students as (language learning) buddies and vice versa.
We organize drinks to connect Dutch and Indonesian students and young professionals in a more informal setting.
Since 2015 we also have board members in Jakarta representing INYS-Indonesia. Together with INYS-Indonesia we strive to achieve the aforementioned mission and vision of INYS. Therefore, the same activities, events and programs will also be organized in Jakarta.
With professionalization of the organization in mind we made the decision to focus on the following aspects:
Knowledge management
Partnerships
Internal and external communication
Visibility INYS
Society building
INYS-Indonesia
We are eager to make it work and are looking forward to meeting you. If you have any questions, ideas, advice or if you want to join us, please feel welcome to get in touch with us!
Sincerely,
The INYS-Nederland Executive Board