01-04-16 – INYS Social Sprink Drink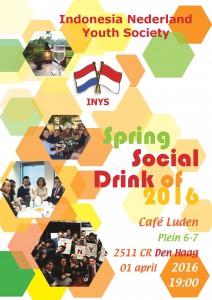 The INYS Spring drink in Cafe Luden, the Hague, was a blast! We cannot believe that it is already a week ago. We met some new people and connected in so many different ways. There was also some jammin that evening.
Missed it? Make sure that you join us during our next Summer Drinks. Looking forward to meet you!
Previous INYS Social Drinks
19-12-15 – 4th INYS Social Drink in Jakarta
30-10-15 – INYS & IDN-NL Autumn Drink in Den Haag
29-08-15 – 3rd INYS Social Drink in Jakarta
24-07-15 – INYS Social Summer drink in Dordrecht
28-03-15 – 2nd INYS Social Drink in Jakarta
20-03-15 – INYS Social Spring Drink in Utrecht
08-11-14 – First INYS Social Drink in Jakarta
06-06-14 – INYS Social Summer drink in Rotterdam
14-03-14 – First INYS Buddy Spring Drink in The Hague