On Sunday 13 March, the INYS was invited to a reception in Rijswijk to welcome H.E. I Gusti Agung Wesaka Puja, Ambassador of the Republic of Indonesia to the Kingdom of the Netherlands. After welcoming the Ambassador to the Netherlands. Pak Puja spoke enthusiastically about previous collaborations between the embassy and the INYS and was looking forward to continue working together in the future.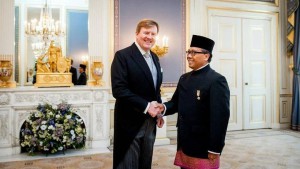 Ambassador Puja was born in Bali on 11 January 1962, and married to Mdm. Rusdijana Puja with 2 children.
Previously, H.E. I Gusti A. Wesaka Puja was the Director General for ASEAN Cooperation at the Indonesian Ministry of Foreign Affairs (April 2012- 12 February 2016). From March 2010 to 2012, Ambassador Puja was the Ambassador Extraordinary and Plenipotentiary of the Republic of Indonesia to the Republic of Austria, Republic of Slovenia and Permanent Representative to the United Nations and other International Organisations in Vienna.
In 2006 – 2009 he served as the Ambassador/Deputy Permanent Representative of the Republic of Indonesia to the UN, WTO and Other International Organizations, Geneva.