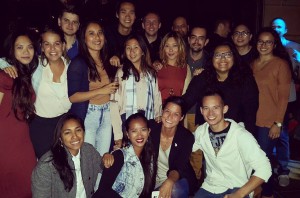 On friday the 29th of July INYS-Indonesia organized the fifth INYS Social Drink in Jakarta. A day later INYS-Nederland followed with a summer drink in Amsterdam. Both in Amsterdam and Jakarta young Dutch and Indonesians attended and actively blended during this event.
The idea behind the INYS Social Drink is to connect young Dutch and Indonesians to each other in a informal way. We believe our drinks in Amsterdam and Jakarta successfully reached that goal, which is why we are already looking forward to organize the next drink.
Do you want to meet new people and expand your network? Are you a Dutch or Indonesian student or young professional, a Holland or Indonesia Alumni or just someone with an interest in Indonesia and the Netherlands, then keep in touch and join us at the next INYS Social Drink!
Watch the photos and tag yourself on Facebook!
Thank you all for coming. We hope to see you again at the next INYS Social Drink!
Previous INYS Social Drinks
01-04-16 – INYS Social Spring Drink in Den Haag
19-12-15 – 4th INYS Social Drink in Jakarta
30-10-15 – INYS & IDN-NL Autumn Drink in Den Haag
29-08-15 – 3rd INYS Social Drink in Jakarta
24-07-15 – INYS Social Summer drink in Dordrecht
28-03-15 – 2nd INYS Social Drink in Jakarta
20-03-15 – INYS Social Spring Drink in Utrecht
08-11-14 – First INYS Social Drink in Jakarta
06-06-14 – INYS Social Summer drink in Rotterdam
14-03-14 – First INYS Buddy Spring Drink in The Hague