Are you a student or a young professional who is interested in the fields of engineering and project management? Here is your chance to learn from the experts! Royal Haskoning DHV – is an independent, international engineering and project management consultancy with over 130 years of experience. Royal Haskoning DHV is currently supervising the construction of the New North Kalibaru container terminal at Jakarta Bay. Royal HaskoningDHV is also involved in the development of the institutional and financial framework for the Jakarta Coastal Sea Defense Project.
Register yourself now and get a chance to join the event. You will receive a tour of a current project site and have the privilege to meet and discuss with Berte Simons, Business Unit Director Mining and Heavy Industry and President of Royal HaskoningDHV Indonesia!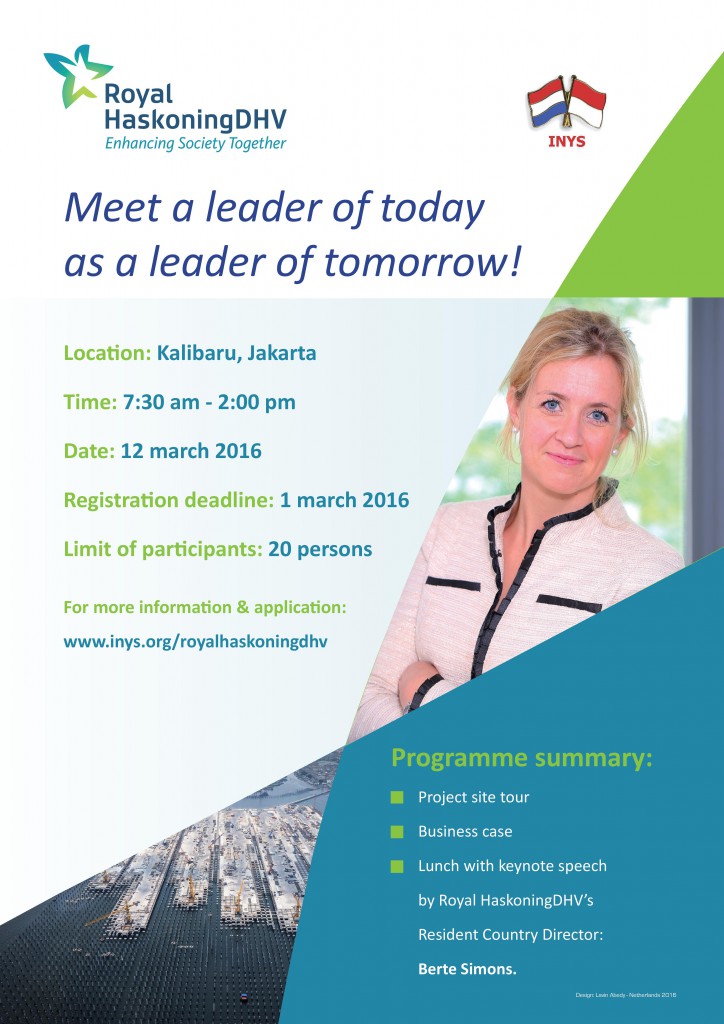 If you are either an Indonesian student, a Dutch student or a young professional, then sign up now and join us on:
Saturday 12 March 2016 From 7.30 AM till 2.00 PM at Kalibaru, Jakarta
Attendance will be by registration only, complete the participation form and send it to events@INYS.org.
20 young Dutch or Indonesian will be selected to join the event. Deadline for registrations is 1st March 2016. All applicants must reside in Indonesia! For more information about this event please contact us through info@INYS.org