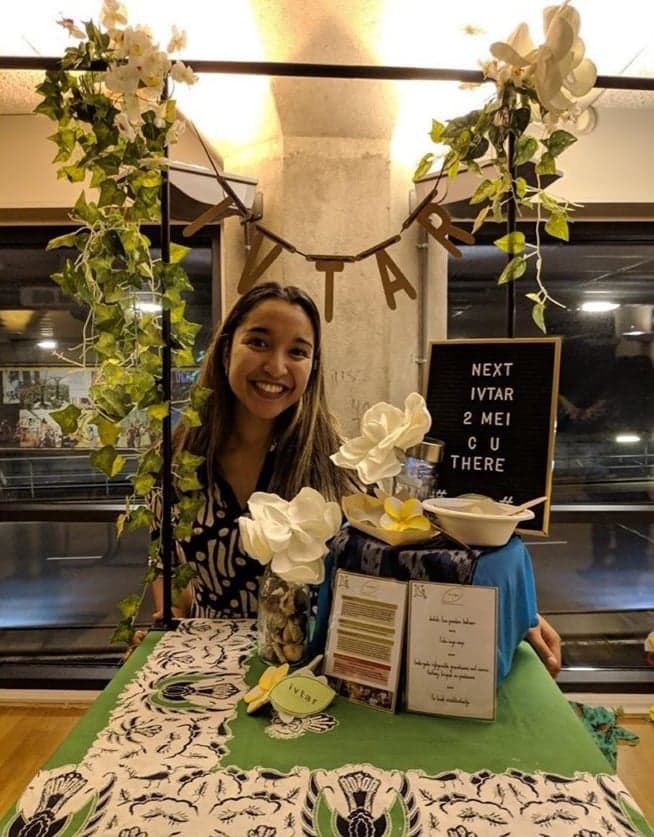 Dimple Sokartara (27) studied International Relations at the Vrije Universiteit of Amsterdam. Dimple was part of the INYS Executive Board in 2014 – 2015, after which she became a member of the INYS Board of Trustees.
Today she works as a Communications Manager for EGI Foundation. Besides her job, Dimple started Ivtar in 2017. Ivtar started as a social gathering with friends from the Indonesian-Dutch Muslim community to break the fast, and developed into an event that invites anyone to participate in a night that focuses on three pillars: sustainability, diversity and Islam. Normally Ivtar is a big physical event including a substantive programme and a lot of tasty Indonesian food. This year, because of COVID-19, the event has been hosted online.
This year Dimple started All You Need Is Food, an initiative where during Ramadan she brings 100 free food packages to anyone as a surprise. Her mother cooks the food and together with her sister and mother she drives around to share the food. Every day they jump in the car to surprise three people.
As if that is not enough, Dimple also makes podcasts about Ramadan. In Ramadan Stories Dimple interviews guests who share various stories about the beautiful moments, challenges and togetherness in the Ramadan month. Stories which thousands of Muslims in the Netherlands experience every year.
On Saturday 16 May at 3 PM there will be a livestream on Instagram with Dimple, hosted by Yunita Ardiyase (INYS-NL Chair). We are very excited to hear her story and learn more about what motivates Dimple.
Do you want to know more about Dimple? Join us this Saturday, when you can ask her questions!

Follow @inys2013 for the livestream.